The Wedding Fair!
Thanks to everyone who came out to see me at the Wedding Fair this past weekend. It was really fun and great to meet so many wonderful people in one day. This was my first Wedding Fair so I wasn't sure what to expect. As soon as I walked in, I saw GIANT booths by a few other local photographers that had furniture, huge photos, tons of albums and brochures everywhere. I, on the other hand, had one small corner booth way off to one side of the convention center with only a few albums and some of my favorite framed prints. I didn't expect to get nearly as much traffic as I did! I had 250 special cards made up for the show and they were GONE within the first hour and a half! Luckily, I had Kinko's print up some package information for me, so we had another 350 sheets to pass out. By the end of the day, EVERYTHING was gone. Almost all my business cards, all my info sheets, even the "sample" Save The Dates I had put out (for people to look at!) had been picked up. I went home hoping to get some inquiries from all the interest and WOW! My inbox was filling up already. In the first two days after the fair, I had almost 30 new client inquiries for dates ranging from next month all the way to the end of 2008! It's so exciting! Looks like '08 is going to be even better than '07 :)
Photos of my booth at the Wedding Fair!
Big thanks to my dad who built me these walls to hang photos on (how do they expect photographers to hang photos on black curtains??) Check out my backyard table, too. It was so much cuter than the table that came with the booth. (I just couldn't bring myself to use a table with a white, poofy skirt on it!) I think the whole setup came out pretty cute. The only thing I didn't think of was a RUG! I'll remember that for January :)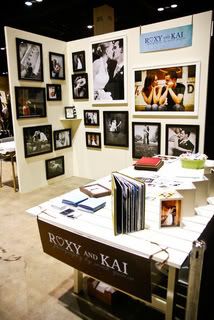 Contracts!
If you've called or emailed me about shooting your wedding, thanks!! I try to get back to everyone as soon as possible and I try to give out as much information as I can. Keep in mind, though, that I CAN NOT save your date for you unless you sign a contract and pay the retainer fee. I also can't email you or call to tell you when someone else inquires about your date. I get so many calls, there's no way I'd be able to keep up with everyone! Lately, I've been getting a lot of inquiries for dates that have already been asked about. If you're really serious about booking, please let me know! I hate having to tell people "Sorry, I'm no longer available" when we've already talked and become email buddies.
Work, work, work!!
The next few months are CRAZY BOOKED! As of today, I have 12 portrait sessions scheduled in the next three weeks and 18 weddings in the next 20 weeks! I'll be posting on the blog from nearly every session, so check back often!